Sunny has been so gracious to show us her project from beginning to end.  It is gorgeous – thanks so much Sunny….Suz
You always give me incentive for a big project, Suz (like the wall hanging f the Geishas on one side and the Samurais on the back!)  I love that moth, and I'm thinking he would look great in the center of a wall hanging and the butterflies all around, such as this:


I love the pic of your moth on the white background pillow, though, and that would be more "do-able"!  I realize butterfly #12 isn't out yet, but I can wait!  In any case, all of the butterflies are definitely going on a quilt!
Have happy holidays, and I hear the East is going to get pounded with cold weather, so stay warm and dry!  We're loving the weather now that we have moved back to CA from MT, but would you believe, we even miss the snow (a little bit!)
So far I have four more of the 6×6 butterflies to do.  The block sizes will be 8×8.  And I am going to redo the moth, even though my machine is hiccuping.  I've found that using Terial Magic makes the fabrics stiff enough so that there's very little puckering.  There is a piece of fabric on the very left that I am thinking of using for border (it has a lot of contrast.)  I am thinking of a gold/orange  background for the moth – we'll see.  The bottom four blocks will be lavender and more shades of blue.  I'm having fun stitching these out, Suz, and they go fast.  The strip between the left column was an audition for sashing, but there's not enough contrast.  (Pls excuse the busy quilt underneath them all – it is on our guest bed!)  Let me know if you have any suggestions!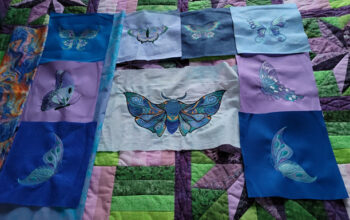 Well, just wanted to show you how far I have gotten on this project.  Just finished the gold flange on the large center square plus all the sashing on the quilt-as-you-go method and am getting ready to put the sashing strips on the outside, then the borders and binding!  Woo hoo.  I created an applique to put in the center of the back – it is a poem in Spanish that means:  In order to fly more lightly, Put on two rose petals, As does your companion, the Butterfly.  (It rhymes in Spanish).  Just wanted to show you my progress so far.  And BTW, I love your new alphabet of the flowers.  Thanks Suz for your generosity.   — Sunny
PS – I handed around the square with the moth to our recent little quilt club, and they LOVED it.  (Decided not to re-embroider it and quilted over the ripples!)
LINKS FOR THE DESIGNS