Linda has done 3 fantastic projects and shows how a little embellishment can add do much to a finished embroidery!
The first is her Peacock:
from Linda:
I'm sending a photo of my latest finished wall hanging, your art deco peacock.  As you can see, I did a bit of editing and added a double swirl to the inside area of the peacock where there was a large, open space.  I used the same color thread as for the first swirl, Your thread number 2852, Light Green Amber, which looks like a soft, golden beige, and I love how it blends with the background fabric, yet still shows up and doesn't compete with the Peacock.  Thanks for the lovely design. P.S.  I forgot to say I "crystalized" the peacock, using three colors of Swarovski crystals, Lt. Turquoise, Topaz and Crystal Meridian Blue.  They went so well with the colors of the design.
Next her Bull Elephant:
Look what I did with your Indian Elephant design, BFC 1545.  I found a use for all that fancy beaded fringe I bought, on sale, and had no idea what I was going to do with it!  This design was really fun, and only 6 colors were used!  I gave this elephant a name- I call him "Bull-E", my sad play on words, but it can stand just for bull elephant.  Thank you for the joy.  Laura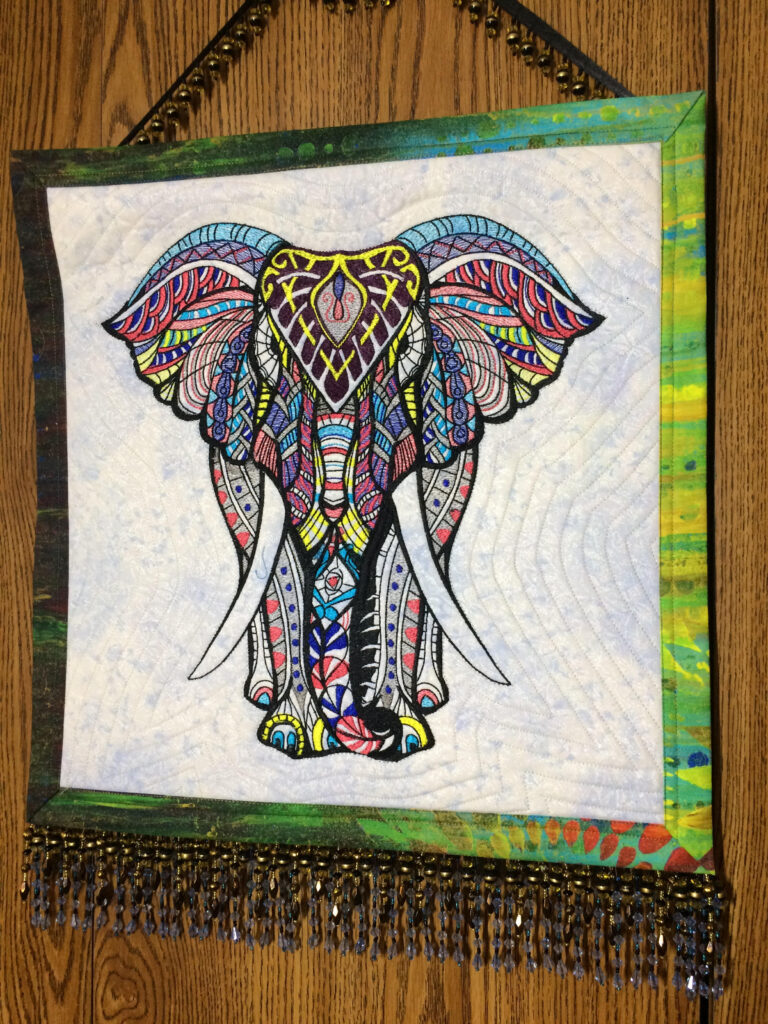 And her Unicorns:
Just finished this.  It's for my 10 year old granddaughter for Christmas.  It turned out almost glowing! For whatever reason, using the mottled, royal blue background, seems to make the unicorns almost look 3D.  FYI, when the embroidery was finished, because of my choice of thread colors, there wasn't as much definition as I wanted.  Guess what!  A number 2 common pencil worked great to get the details to stand out.  Thanks for the great design.
Yep, it is eyelash yarn.  A good number of years ago I found 2 hanks of it in the remnant bin at Walmart.  One was green and the other aqua.  I believe I had one of your mermaid designs I wanted to do and the yarn reminded me of seaweed.  Once I embroidered the design I then couched the yarn on to make an underwater scene.  Since then I have used that yarn a number of different ways and as hangers on 4 different wall hangings.  It adds a bit of unexpected texture.  It also proves there is a reason we are confirmed stash builders! We never know when we will use a treasure we have stashed.